Solutions
Ad Hoc File Transfer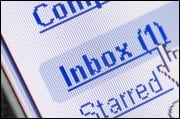 Ad Hoc File Transfer combines the security and reliability of managed file transfer with the simplicity and familiarity of email.
Today, most people turn to either email or cloud based file sharing as their default file transfer solution for their simplicity. Unfortunately, simplicity isn't the only characteristic needed in file transfers, especially in an enterprise setting.
Limitations of many email and cloud file transfer solutions:

Files can be intercepted and viewed by unauthorized individuals, thereby compromising company privacy


Subject to often unacceptable size limits that prevent users from sending large, business-critical files.


Difficult to monitor, control and audit, thus undermining regulatory compliance initiatives.
Some Features and Benefits of Ad Hoc File Sharing

Equipped with data-in-motion encryption, which prevents intercepted files from being viewed by unauthorized individuals


Immune to file size limitations


Centralized management system designed for strict control, monitoring and auditing

Data Loss Prevention automatically detects sensitive data

Supports downloading of multiple files or even entire directories

Ability to notify sender as soon as the message is viewed by the recipient

Restricts access to shared content after a specified period elapses


All these, presented via a very ubiquitous interface: email

JSCAPE MFT Server Ad Hoc File Transfer comes in three forms:
Email File Transfer plug-in
Designed for Microsoft Outlook, this ad hoc file transfer plugin will allow your users to send files securely through their favorite file transfer solution - their email client.
Web browser
For those who don't have Microsoft Outlook on hand (or simply prefer not to use it), your ad hoc file transfer service will also be accessible thru any Web browser, including Chrome, Firefox, Internet Explorer, and Safari.
Mobile apps
Built for people on the go, JSCAPE's iOS and Android File Transfer Clients can come in handy especially when you're on the road and need to quickly email a large or confidential file stored on your company server.
Get Started
Learn More