Solutions
Government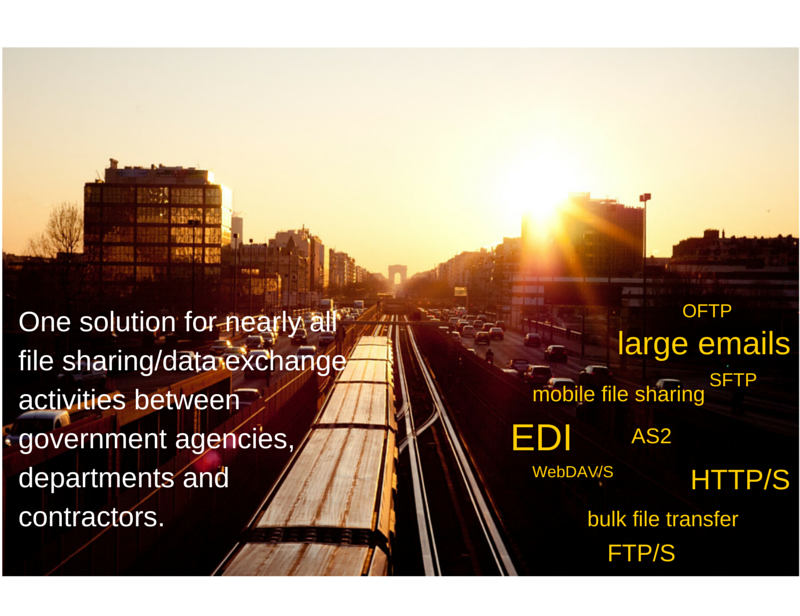 Government initiatives to expedite processes, improve efficiency, reduce costs, and protect privacy in the public sector are compelling agencies, departments, other government bodies, and their respective contractors, to seek better methods of exchanging critical information.
In most cases, these organizations also have to navigate through a minefield of regulations like HIPAA, GLBA, SOX, FISMA, and EU Data Protection Directive, whose onerous requirements can only add to the burden.
And because information exchanges with, within and between these organizations are always conducted in a variety of ways - ranging from email, mobile-based file sharing, to EDI - managing, securing, monitoring, and auditing all these exchanges can be impossibly difficult.
Relying on the traditional way of integrating a hodge podge of disparate solutions always results in a system that's difficult to manage and maintain. It would be much easier if you could consolidate these file sharing/data exchange activities into a powerful, centrally administered file transfer solution that's inherently fast, versatile, secure, and capable of supporting either simple user-initiated file uploads/downloads or massive automated transactions.
JSCAPE MFT Server has these capabilities. This multi-protocol, platform-independent secure managed file transfer server is built with the following key features.
Features and Benefits of Secure File Transfer Servers

Large File Transfer Capabilities - Backed by a range of protocols like FTP/S, SFTP, SCP, WebDAV, HTTP/S, and AS2, JSCAPE Secure Managed File Transfer Server enables you to transmit multiple files of any type and size. It also offers AFTP, a UDP file transfer protocol that's virtually immune to high latency and packet loss, making it ideal for long distance file transfers - like satellite, trans-continental, or trans-oceanic transmissions to/from a military base, ship, or any other party located overseas.

Ad Hoc File Transfer - This innovative feature allows your users to email large file attachments via MS Outlook, a graphical Web-based interface, or their personal Android or iOS mobile devices. All attachments go through JSCAPE Secure Managed File Transfer Server, so you can be sure they're secured, logged, and under your control.

EDI/Automation - Business transactions between government agencies and contractors or other trading partners are usually carried out over EDI. These features should be perfect for the job:

Triggers – for automating various scheduled or event-driven tasks such as: performing overnight or over-the-weekend batch transmissions, deleting or archiving aged files, scanning or encrypting new uploads, duplicating files and forwarding to another server, and a host of other processes.

AS2 – for transmitting invoices, forms, bids, request for quotes, purchase orders, and other business documents in EDI format over the Web. AS2 is a more affordable, accessible, and secure method compared to traditional EDI delivery systems like VANs.

Trading Partners module – for easily establishing and managing B2B connections with trading partners

Comprehensive Security - JSCAPE MFT Server is packed with an extensive array of security features, including encryption (e.g. SSL/TLS, SSH, and OpenPGP), DLP, key management, multiple access control and authentication options, antivirus, integrity checksum, and many others, all designed to work cohesively. This allows you to protect personal, financial, medical and classified information from accidental data leaks or deliberate attacks.
JSCAPE Secure Managed File Transfer Server comes with a free, fully-functional edition, so you can try it out now.
Get Started

Learn More