Products
Certifications
As a leading vendor of managed file transfer software with more than 1000 customers in 57 countries worldwide, JSCAPE is committed to ensuring that our products comply with file transfer protocol and security standards.
Drummond Certified

™

JSCAPE has achieved Drummond Certified™ status for its implementation of the AS2 protocol in MFT Server and MFTExpress products. One of the most widely used protocols in the world, AS2 is responsible for B2B e‐commerce messaging for thousands of applications across dozens of industries.
OFTP2 Interoperability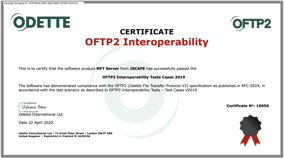 JSCAPE has demonstrated compliance with the OFTP2 (Odette File Transfer Protocol V2) specification as published in RFC-5024, in accordance with the test scenario as described in OFTP Interoperability Test - Test Cases V2019.
FIPS 140-2 Compliant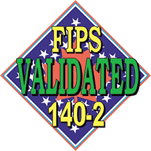 The Federal Information Processing Standard (FIPS) Publication 140-2 is a US government standard that details the minimum security requirements for cryptographic libraries that protect sensitive data. JSCAPE incorporates FIPS-140-2 validated libraries into its products and services.