JSCAPE Introduces MFT Synchronizer
Words By John Carl Villanueva
Last Updated:
JSCAPE just launched a new product for managing all your synchronization processes. Read about it in this blog post.
JSCAPE, the leader in platform and protocol independent managed file transfer solutions, is pleased to announce MFT Synchronizer, a new complementary product to our flagship product, MFT Server.
JSCAPE MFT Synchronizer is a platform independent file synchronization server centralizing all synchronization processes into a single easy to use web-based application. MFT Synchronizer supports all major file transfer protocols including FTP/S, SFTP, AFTP (Accelerated File Transfer Protocol) and HTTP/S as well as an optional platform independent Agent application that may be installed on hosts that do not have a file transfer service. Utilizing a hub-and-spoke network topology MFT Synchronizer is able to synchronize files from spoke to hub, hub to spoke or spoke to spoke all with ease and complete visibility.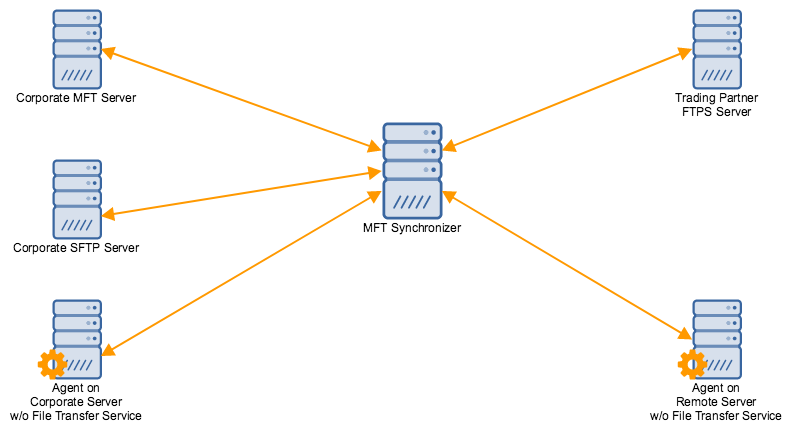 "We regularly hear from our customers that they need to exchange files with one or more trading partners and/or data sources that do not have a file transfer server installed. MFT Synchronizer streamlines the exchange of data with those partners and sources using a centrally managed, no-cost, small footprint agent. As we move into the age of IoT (Internet of Things), MFT Synchronizer will pave the way for the collection and distribution of data from millions of devices." said Van Glass, JSCAPE CEO.
Example use cases include:
An oil/gas drilling company that needs to collect daily data from thousands of rigs.
A large retailer that needs to push pricing updates to all POS systems.
A water company that needs to pull usage data from all subscribers.
A government agency that needs to pull employment statistics from each of its regional offices.
Some of the features supported by MFT Synchronizer include the following:
A web-based interface that enables local and remote administrative access from anywhere.
Support for multiple copy conditions including different time, different size and different content.
A detailed synchronization execution history that provides visibility into all your synchronization processes.
Support for multiple synchronization modes including mirror, synchronize, backup and contribute.
Automated email alerts that provide information regarding synchronization status.
Support for public key and client certificate authentication.
A built-in scheduler for automating synchronizations.
Support for host key and certificate validation.
RESTful API for integrating with external applications.
Try JSCAPE MFT Synchronizer for FREE


Download JSCAPE MFT Server Trial

Why don't you give MFT Synchronizer a test run? Download the FREE, fully-functional evaluation edition now:

For instructions on how to install, configure, and use MFT Synchronizer, refer to the online documentation.