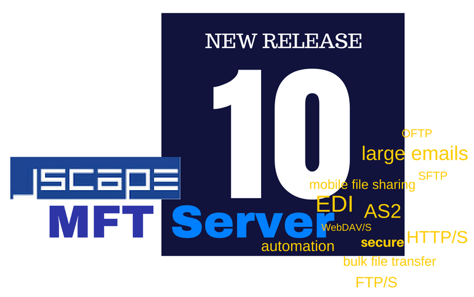 JSCAPE is pleased to announce the release of MFT Server 10. This is a major release and includes several new features and improvements focused in particular on the client web interface, OFTP2 and AS2 file transfer protocols and key management.
A summary of the major improvements available in this release are provided below. For a complete list of changes and updated documentation please see the version history.
All customers are encouraged to upgrade to the latest release as a number of performance improvements and bug fixes have also been made. To upgrade to the latest release please submit a ticket to the Help Desk requesting download access and upgrade instructions.
Release Summary
Achieved OFTP2 testing compliance with Odette.
Major upgrade of client web interface to use RESTful API calls and redesigned client web interface to use JQuery components matching the look and feel of current administrative web interface.
Added support for CRL (Certificate Revocation List) and additional key usage attributes to Server Keys module in Key Manager.
Added ability to support multiple decryption and receipt signing keys in AS2 module.
Added support for case-insensitive logins regardless of operating system.
Added ability to edit a service without having to manually delete/add a service.
Added built-in modules providing ability to authenticate administrators against 3rd party user repositories including databases, LDAP, NTLM, PAM and RADIUS.
Added ability to limit data connection modes for FTP/S to include Active, Passive or All.
Enabled diffie-hellman-group1-sha1 cipher by default for SFTP service.
Added a Create Drop Zone trigger action for use in the automation of provisioning drop zones.
Added User Password Reset Request trigger event.
Added ability to set minimum password age.
… and much more.
Download a free, fully-functional evaluation edition of JSCAPE MFT Server now.