Do you wish you could run reports on your JSCAPE MFT Server based on specific search results that were previously created on the Logging module? This capability can be particularly useful during audits or investigations, when you would like to get finer levels of reporting.
This is already possible starting with JSCAPE MFT Server 8.3. So if you're still working with an older version, this capability is one good reason to upgrade.
In previous versions, it was already possible to specify certain metrics in reports like Top Users, Top Hosts, Top Uploads, Top Downloads, Monthly Statistics, and so on. But the data used mostly came from all the records in the logs. Thus, the resulting information was often too broad. The only other criteria you could specify were the Username and the Start and End Dates.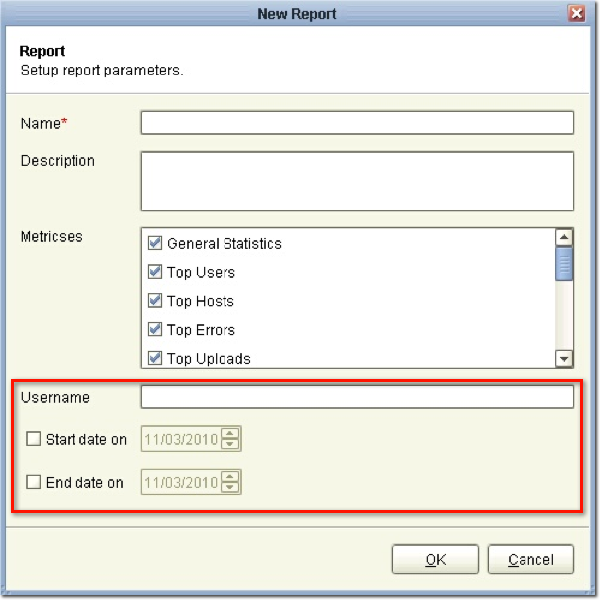 What if you wanted to know the Top Uploads or Monthly Statistics of file transfers involving only image files? This kind of reporting would entail the use of regular expressions to match certain values in the server message column of the logs.
So how would you do this in JSCAPE MFT Server 8.3 and above?
Before we get to that, the way you would do this in the logging module in older versions would be to specify a Date Range ...
... and then employ this regular expression against the Server Message column:
.*\.jpg.*|.*\.bmp.*|.*\.png.*
(Note: If you're not yet familiar with regular expressions, this introductory article to regular expressions is a good place to start.)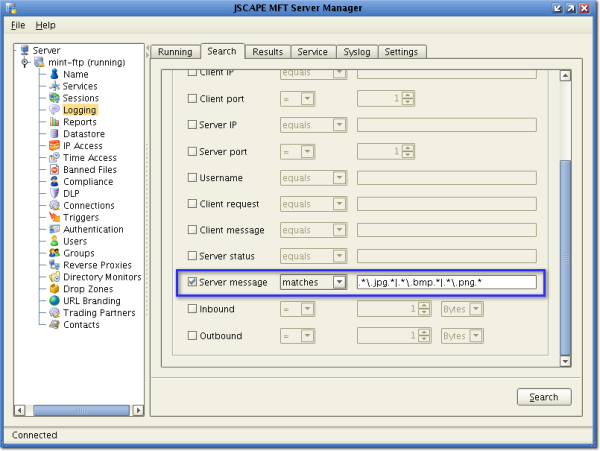 Once the Search is run, the managed file transfer server would gather all records in the logs where a .jpg, .bmp, or .png can be found in the Server Message column.
The results would then be made available in the Results tab.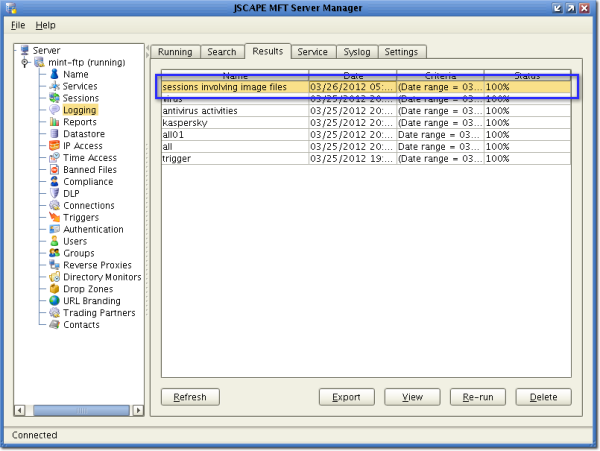 From there, you could view the results (and maybe eventually print it) by clicking on the View button.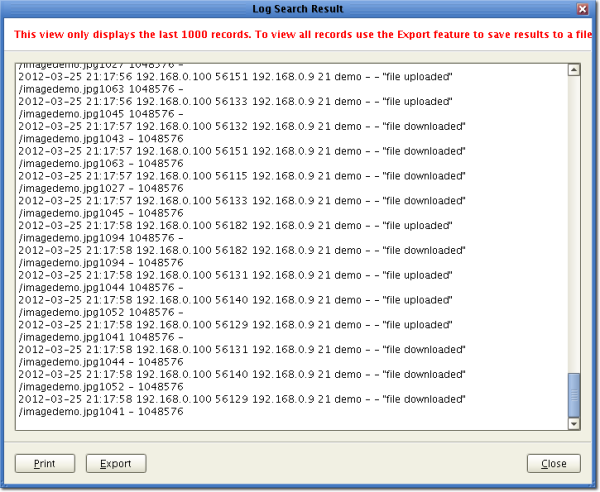 Or you could Export it to a file by clicking the Export button. I usually export the results as .xls files for easier viewing on a spreadsheet application like MS Excel or OpenOffice Calc.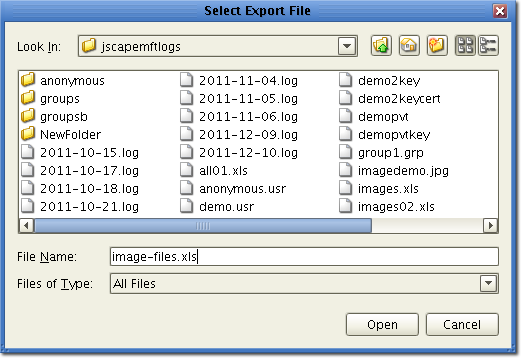 Here's a sample export viewed through OpenOffice Calc.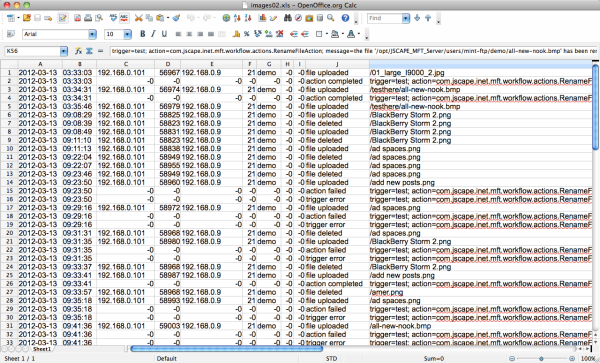 Everything you've seen up to this point can be done in versions before and after 8.3. But what we're about to show you in the remaining steps is only possible in 8.3 and above.
If you go over to the Reports module and click the Add button,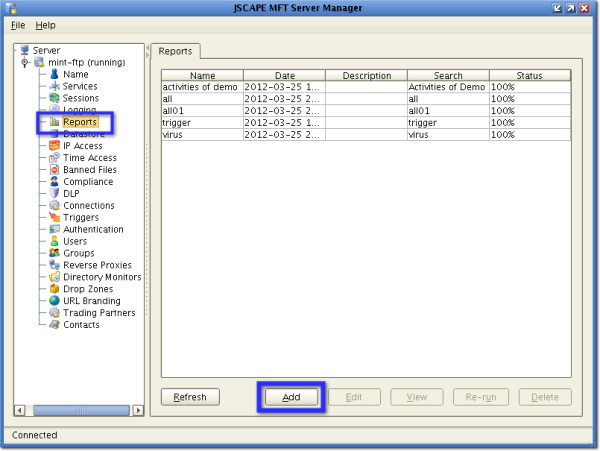 you'll now see, starting with version 8.3, these new entries: Search results and Re-run search. You can see the difference by comparing the screenshot below against the first screenshot on this post.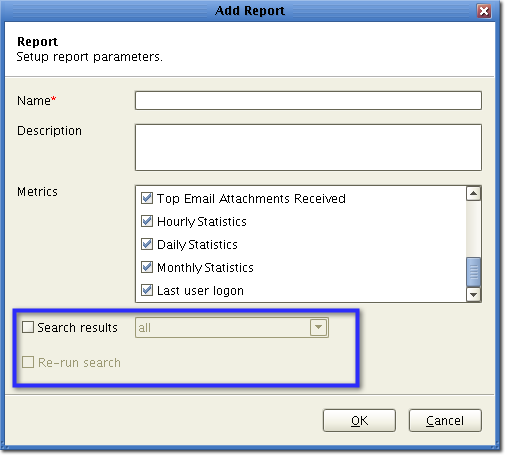 The two entries in the previous versions, Username and Start Date/End Date, are no longer necessary here because they can be specified in a log search and the results of that log search can already be selected from here. Notice that the item selected below is the name of the search result we generated earlier (see 4th screenshot).
When we run this report, the metrics obtained will be taken specifically from that particular search result. You can even re-run the search to make sure recent records can be included.
Here are a couple of graphs we grabbed from this particular report.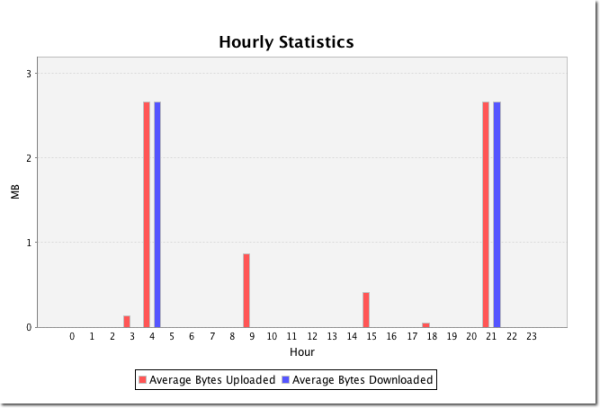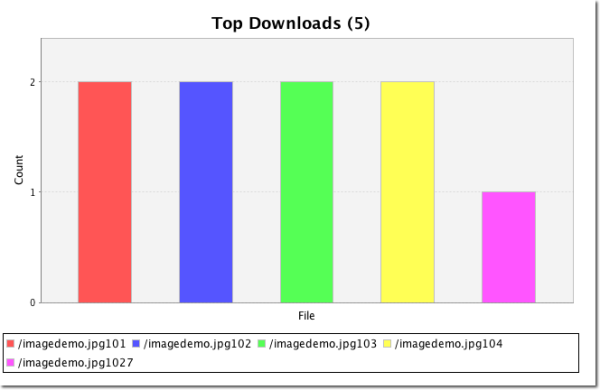 Notice how the top uploads and downloads were all image files. Again, this kind of reporting is only supported by JSCAPE MFT Server 8.3 and above, so download the latest version now.