Overview
In this post, I'll show you how easy it is to set up a Linux FTP Server using JSCAPE MFT Server. One advantage of using a Java FTP server like JSCAPE MFT Server is that it can run on virtually any platform; be it Windows, Mac OS X or Linux. All you need is a Java installation and you can already provide fast and secure file transfer services.
JSCAPE MFT Server's platform independence means you can work on the platform that you're most comfortable with. Then later on, if you decide to migrate to another platform, you can do so with relative ease. As you might have gathered from the title, we'll be focusing on the Linux platform on this article.
Getting rid of existing FTP services
I'll assume you have your Linux server up and running and that you're logged in using an account with root privileges. Now, there's a good chance that your Linux machine already has an FTP service running on it. You might want to disable that first.
To find out whether such a service is in fact running, execute the following command in the terminal:
netstat -natp
When the results appear, look for a running program listening on port 21. That's the default port used by FTP services. For example, executing that command on one of my Linux machines reveals that I have the FTP server named vsftpd running there.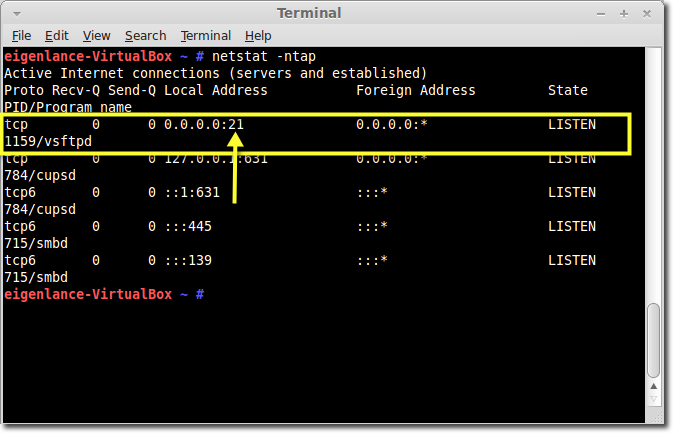 Now that you know the name of the ftp service that you want to disable, the next step of course is to disable it. The command you're supposed to use will depend on the kind of Linux distribution you have. For example, Red Hat users can use:
chkconfig vsftpd off
Debian users, on the other hand, can use:
update-rc.d -f vsftpd remove
Since this particular Linux machine of mine runs on Mint, a Debian-based distribution, I used the latter.

Note however that, even after executing the appropriate command, the changes won't take effect until you've restarted the computer.
Once you've successfully disabled the FTP service in question, you can proceed with installing JSCAPE MFT Server.
Downloading, installing and configuring JSCAPE MFT Server
To start, go to the JSCAPE MFT Server download page. Enter your firstname, lastname, and email address into the form provided. You'll then be shown different versions of the installer. Download the one named install.rpm, which is the RPM console based installer for the Linux platform. Save that file in a folder in your Linux machine.
In the terminal (console), navigate to the folder where you saved the rpm file. Now, type in:
rpm -iv install.rpm
Don't mind the message in the screenshot about Alien. As long as you use a Linux distro that supports the RPM package manger out-of-the-box (e.g. Red Hat, PCLinuxOS, or openSUSE), you won't get that message.
In most cases, the JSCAPE MFT Server program will be installed in the folder /opt/JSCAPE_MFT_Server. Navigate to that folder. The next step is to configure the managed file transfer service. Enter this command:
./config -host [IP address] -port [port] -user [username] -password [password]
in my case, for example, I entered:
./config -host 192.168.0.9 -port 10880 -user admin -password admin
That will tell the JSCAPE MFT Server service which IP address and port you want it to listen on and what credentials you'll be using when you connect to it. Here's what I did: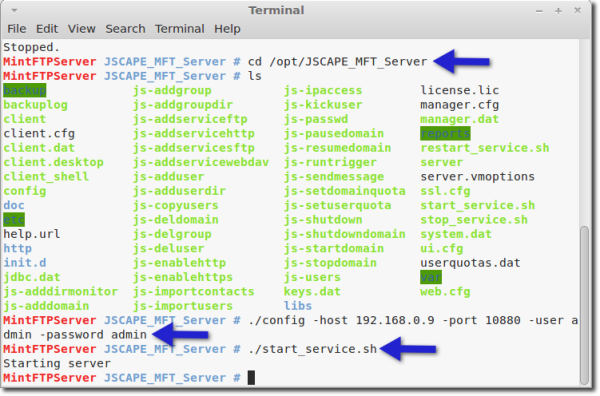 In the screenshot above, you'll notice that I already executed the start_service.sh command, which is responsible for starting the JSCAPE MFT Server service.
Once you have your JSCAPE MFT Server running, you will normally want to administer it using the JSCAPE MFT Server Manager. This is a GUI application that FTP server admins typically install on a GUI-enabled operating system like Windows or Mac. In other words, while the JSCAPE MFT Server itself can be placed on a console-based Linux machine, the tool for managing it can be on a separate GUI-based machine.
That means, you can manage your Linux FTP server remotely. Since I mostly manage mine from my Mac notebook, I'd like to show you how you can install the JSCAPE MFT Server Manager on a Mac. If you're interested, you can join me again in Part 2 of this blog post.